There are some of you out there that I could never convince to use recycled rubber products in your yard, and I am alright with that. Some gardeners like to reclaim old pine needles and use them for mulch. Others start their own compost piles in the backyard, and lessen the impact on the environment by mulching with organic materials. This is good and you should be commended, as you are doing the same thing we are, recycling products to give them a second life. We are all in this world together. This month, some of the focus of my entries is targeted at recycling as a whole, not solely reserved for recycled rubber, as this is just one of the many items you can purchase and use to help better the world that we live in.
There are still hundreds of millions of tires in piles across the country, but with the help of "green" minded consumers like you, we are doing our part to keep these tires out of landfills, lessening the impact on our environment. As I sit back and write this latest entry watching trucks come and go from our factory, I am feeling a sense of pride. Together, we will celebrate a milestone in the coming weeks and we at IMC would like to extend our thanks to everyone who has supported our company and purchased our products. One home, business and playground at a time we have recycled 100,000,000 pounds of tires for use in landscaping and playground applications since we founded our company.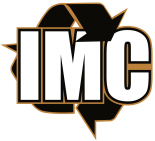 Since starting this company I notice what some would call some odds things in my daily life, and often ask myself the question "why." Recycling does not have to be hard, but often times the way our government works makes it more difficult than it should be. I live in a city that has more than 150,000 households, but

seldom see the familiar blue bins as I drive in to work each day. After some research and a few calls, I was a bit embarrassed as the statistics are not what I would call, or for that matter, anyone would call good. Currently there is a curbside recycling program that covers 3,174 households, about 2 percent of the homes have this option. The city says that there is 27 drop off locations, but this is not enough. Sure, there are some that load up their recyclables and drive to a location, but if the homeowner pays for the service why is not a program that more can take advantage of?
If you live in a community like mine, gather up friends and neighbors and use the EPA Website to start your own recycling program, and make it an issue in the next election as your voice cannot be heard if you do not speak. In the meantime, for those of you who load your can every weekend and drive to a collection facility, thank you. If you do not, it only takes a bit of time and dedication. Perhaps you can add it to the New Year's resolutions list just above "go to the gym every day," as we all know this is impossible to accomplish!