Sometimes when homeowners tell their friends that the mulch in their yard is made from recycled rubber tires, they get a response like, "you have to be kidding me." But then when they say that they won't have to remulch for the next ten years people are astounded. Who would have thought that when the vulcanized rubber tire was invented in the 1800's, that one day it would have a second life adorning homes and businesses across the country and around the world.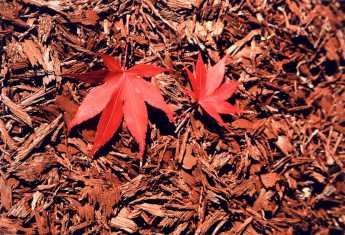 It is truly an innovative industry and one worth taking a look at. As history shows us, the "silent gardener," a.k.a. mulch, has had a colorful and sometimes a bit odd past. No matter what you spread on your beds and around your trees, quietly and humbly, mulch, has been protecting our gardens and flower beds for thousands of years.
But tell me more about the odd past of mulch…read on…
The Stone Age
Not many surprises here as to the make up of the mulch used. It has been discovered that our ancestors more than 10,000 years ago used stones in gardening applications as a method to inhibit weed growth. Numerous gardens have been discovered throughout recent years and all employed similar techniques.
Use a weed to stop a weed
For more than 2,000 years seaweed has been a food source for many cultures and countries that border our oceans. It has also been used as animal feed, herbal medicine and even dye. The true pioneers of using seaweed as mulch are Scottish and Irish farmers. Noting the high degree of nutrients and its abundant nature, it was a natural fit for these farmers for hundreds of years and even today.
Wall-to-wall carpet
Here is where we start to stray a bit off the path.
So you finally realize that the style of the 70's may in fact never be back in fashion. Now what to do with that carpet? Or you want to feel like a celebrity and have an urge to walk the red carpet a few times a week.

We have an answer to both dilemmas. While not the least bit attractive, carpet scraps serve as excellent walkways through rows of crops in the backyard garden. They stop weed growth and can last for several years. Carpet scraps work best if you put the carpet side down, but if you would like a bit of whimsy in your life, or want to irritate a neighbor, be bold and bring your indoors…outdoors.
Do you like Chocolate…I mean really like chocolate?
You open up the backdoor early in the morning, and you smell chocolate. You play with the kids in the backyard, and you smell chocolate.

You sit on the deck at night enjoying a glass of wine, and you smell chocolate. You either live in Hershey, PA or use cocoa shells for your mulch. Once reserved for those fortunate enough to live near a large candy making operation, this mulch is now available commercially throughout the United States. Made from the shells of roasted cocoa beans this organic mulch does what every other mulch can do and maintains an airy aroma of your favorite candy as a bonus.
It is important to note that it is not recommended to use this mulch if you have pets as it contains Theobromine, a naturally occurring stimulant that can be toxic to dogs and cats if ingested.
Whatever you choose to use, be it recycled rubber, newspaper scraps, peanut shells, hay, pine needles, lawn clippings or even ground up corn cobs, rest assured that the "silent gardener" will be at work helping to beautify your garden. And if you know of any interesting mulches, drop us a line as we would love to hear about it.