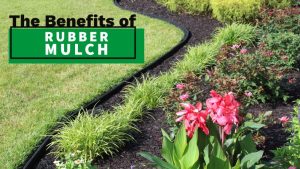 IMC Outdoor Living, A Division of Liberty Tire Recycling would like to share a few of the benefits of switching to rubber mulch!
Our rubber mulch is made from tires at the end of their life and then recycled into mulch. Rubber mulch comes in many different colors and shapes.
Here is a list of reasons why you should switch to rubber mulch:
Only apply once a decade. Our rubber mulch's color is guaranteed to last 12 years.
Looks like wood mulch – but lasts longer than wood mulch.
Inhibits the growth of weeds, meaning less weeding for you.
Bugs, such as termites or carpenter ants, are not attracted to rubber mulch.
Rubber mulch is dense, so wind or rain won't disturb your beautiful work!
Rated as the safest playground surface.
By buying rubber mulch, you are helping the environment by removing tires from landfills.
You are also saving time and money by not having to purchase and lay more product every year.
What are you waiting for? Make the switch today and relax for the next 12 years! To request a bulk quote, click here.
For any questions or information about our products, click here.
We look forward to hearing from you!