Just because the summer season is behind us doesn't mean that we need to trade in our gardening tools for the snow shovel. If you planned it out in the spring, you should have some fall color starting to reach its peak…if you didn't plan for the end of the season, don't give up hope because you can still enjoy a beautiful bounty of fall bouquets.
Mums the word. But the word is out as it is almost a right of fall to begin replacing our spring annuals with

hardy mums to give us a last bit of color. A quick money saving tip: when your mums have done their color duty for the year, don't dig them up and throw them out as many novice gardeners do – if left throughout the year they will continue to flower each fall in most climates.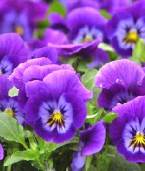 An often overlooked fall flower are pansies. Believe it or not, if planted late in the season they will offer a vibrant color palette before going dormant for the year. The best thing about pansies, is since they have had time to establish their roots, they will bloom again, bigger and brighter come spring, meaning that is one less thing to buy next year.
Let's get a little lazy. Two words, ornamental grass. Extremely tolerant to drought, can handle 365 days of


weather, and can add a striking appearance to your garden in the fall as well as throughout the year. If you can grow grass, this is one of the easiest plants you will ever put in your garden. Just remember that some varieties can get a bit unwieldy if you don't read the label. I like to use my neighbor as an example as he planted a hearty and fast growing ornamental grass along his walkway – by July the grass was 6 feet high and he would have needed a machete to forge a trail through it, but it looks great from my side of the fence!
Oh where, oh where are the bulbs? Late September and early October, when temperatures are cool and stay cool, are a great time to get a jump on spring planting by getting a little dirty planting bulbs. They give a great jumpstart to the year by offering a first look at spring color. But don't do what my neighbor does every year. Spend a lot of money on bulbs, meticulously planting them in perfectly spaced rows and designs, only to forget where he planted them come spring – digging them up as he plants a new year's worth of annuals. If you have invested the time and effort, take a few minutes to label and put a few stakes in the ground as a little reminder to what should be poking through in the spring.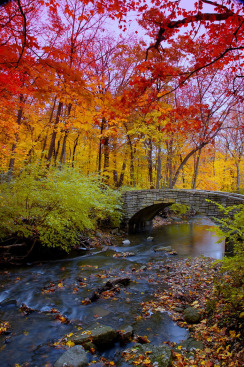 Plan for next year. As the sun sets on hot temperatures we often get our dose of fall color from trees as they turn and drop their leaves. Fall is the ideal time to plant trees and shrubs so check out your local garden center and plant a wide variety of perennials and trees this year so that you can enjoy the changing of the seasons next year.
Spring is just a few months away so don't get discouraged and enjoy the fall colors as they are often brief, but always brilliant.