In a recent nationwide survey that we conducted, 80% of those surveyed said that they prefer the look of shredded rubber mulch over that of a nugget style rubber mulch.  Most of the respondents noted that they felt the shredded rubber mulch had a nicer appearance than that of the nugget and that is looked more like traditional wood mulch.  Appearance aside, let's take a look at the functionality of rubber mulch as there is a strong case for the use of both products based on what you are planning to use the mulch for.
Traditionally, mulch has been used to beautify flower beds and landscaping.  Mulch also helps the soil retain moisture while helping to lessen weeds from growing.  However in recent years, mulch has made some great strides as to how we use it and how it can help us.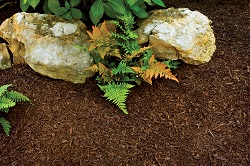 When many of us were children we raced to the playground after school.  We took to the swings, the jungle gym and slide, and when our feet, or knees or hands hit the ground, typically we spent the next few minutes in pain as most playgrounds were covered in gravel.  You wanted to play – you played on gravel, grass, asphalt or concrete – there was no such thing as safety surfacing or playground mulch.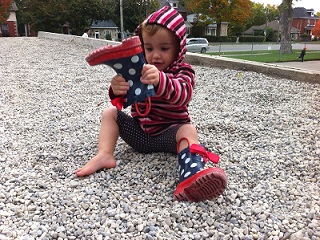 When our company started 15 years ago we had one product, Rubberific Premium Shredded Rubber Mulch, and our market was landscaping – residential, commercial and municipalities across the country.  As our product line evolved we moved into producing nugget mulch that was primarily used in commercial landscaping…however that all changed quote quickly.  After sending our mulches out to an independent third party testing organization it was determined that 6 inches of our nugget mulch achieved a fall height rating of more than 17 feet.  A fall height rating is determined by a test that identifies at what height someone can safely fall without sever injury.  To put this 17+ foot fall height into perspective here are some competitive results:
Wood chips 7 feet
Engineered wood fibers 6 feet
Wood mulch 6 feet
Double-shredded bark 6 feet
Fine gravel 6 feet
Medium gravel 5 feet
Fine sand 5 feet
If you have been to the local park lately you know that your children are playing on equipment that is higher than 7 feet.  And full disclosure, to get a fall height of 7 feet for wood chips you would need to have the surface be 12 inches deep.  In this business I have been to many playgrounds with surfaces other than rubber mulch and I have never seen one with a foot of mulch on it.
Our Rubberific Premium Shredded Mulch is second-to-none for landscaping applications as it looks identical to wood mulch but comes with a 12-year color guarantee and it has three times the coverage of wood.  This product also is safe – with fall height ratings of 10 feet your playground can now match your garden beds for a consistent and professional look.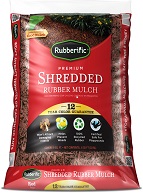 So we know rubber mulch is safe to play on, and you can save time and money in the long run as rubber mulch will not fade for more than decade meaning you won't have to mulch and re-mulch year after year.
When all is said and done, shredded versus nugget is up to you – it is a question of personal preference.  One thing I can say is no matter which product you choose, your children will be safer, your landscaping will look great 365 days a year and you won't have to run to the home improvement store year after year to replace your faded and unsightly wood mulch for many years to come.  In addition, no more scraped knees from the gravel playgrounds of old!