So, you've just finished your landscaping project for the summer. You laid down some gorgeous, shredded rubber mulch and just finished planting the perfect combination of plants, but something about it just looks unfinished. What is it? It's the edging, you need some rubber edging!
Landscape rubber edging gives your landscaping that finalized and unifying look. It brings each element of your landscaping together and gives it that nice clean crisp look. And though it makes everything look significantly better, it's also very practical. Rubber edging makes it easy to mow around your landscaping without tearing up your fresh plants. It's the perfect little gate that keeps your soil and mulch from spilling out onto sidewalks and lawns, and it keeps grass from inching its way back into your flower beds and gardens. If you want your landscaping to look like it came straight from a magazine, rubber edging is the final step to achieve that.
Now, what styles of rubber edging are there? We have brickface edging that comes in brown and black, cobblestone edging in brown and gray, scallop edging in red, and curb edging in gray. Each style offers a different aesthetic that pairs perfectly with your landscaping to provide a finished look. All of our edgers are made from 100% recycled rubber, are easily installed with no digging involved, and are sturdy enough to hold up for a long time. You'll need two people, a rubber mallet, and some whack-a-mole experience. You can also check out the product fact sheets for more details on how to install our edging.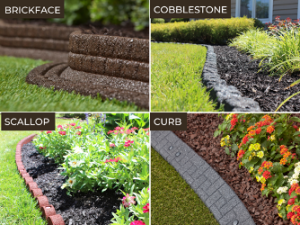 With rubber edging, the options are endless. They can be used to edge flower beds, gardens, walkways, patios, and much more. So, grab some rubber edging and boost your home's curb appeal!