The market leader positions brand for continued long-term growth
ST. LOUIS (February 11, 2014) – International Mulch Company™ (IMC), announced today the rebranding of its hallmark Rubberific product line. This rebranding initiative includes a new logo and a complete redesign of all packaging that will be debut across North America in the spring of 2014.
"Demand for our products has grown steadily over the past decade and it was time to create a new brand design that will continue to serve as the gold standard for recycled rubber products for years to come", said Cindy Miller, CEO of IMC. "Having reached the milestone of recycling nearly 400 million pounds of rubber into landscaping and playground products this month, we felt it was a fitting time to unveil the new Rubberific brand to retailers and consumers alike."
Rubberific Mulch, the only rubber mulch that looks identical to wood mulch on the market today, was introduced when IMC opened its doors in late 2000 and is now sold both in-store and online at thousands of retail locations across the United States, at fine retailers such as: Lowe's, Menards, Ace Hardware, True Value, Costco, Wal-Mart, BJ's Wholesale Club, Meijer and DoitBest. The brand started with mulch but has grown to encompass a complete product line of recycled rubber products (tree rings, timbers, swing mats, landscape borders, splash blocks, pavers) for both home and commercial use, all bearing the Rubberific name.
"The company took great care and consideration to identify a design team that understood this market segment and how to best communicate the abundant benefits of this product line," said Rich Muth, Senior Director, Marketing and New Product Development at IMC. "Having previously worked with Brian Schultz while I was at Schultz and Spectrum Brands I knew the impact that his award-winning designs had with the consumer, and we knew that we should entrust Brian Schultz Design to develop the new Rubberific brand for market".
"Rubberific is a great brand, so we were excited about the opportunity to create a refreshed look and visual language that would communicate all that this iconic brand represents", said Brian Schultz of Brian Schultz Design. "The process started as it always does, collaborating with the IMC team, surveying their category and identifying opportunities to break through the clutter, all while retaining the spirit and equity of their current look. We simplified communication on the package by creating a series of icons that speak to the key benefits of the product, and developed a graphic system that reflects the premium qualities of the product"
"Topped with a bold new logo, the updated design captured the attention of the IMC team as well as the retailers they presented to immediately. The final test was in the quality of the printed packages which reproduced beautifully with no compromise to the original concept," concluded Schultz.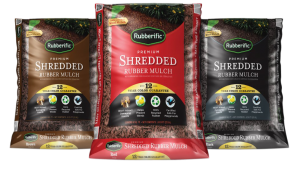 While the look of the packaging will change, what will not change are the core values that the company was founded on and that are translated into each and every product that IMC produces: beauty, safety, longevity and doing our part to be good stewards of the land.
For additional information on our full suite of recycled rubber products,please visit us at www.imcoutdoorliving.com or at www.facebook.com/rubbermulch.
International Mulch Company™ (IMC) is a family-owned and operated business with its corporate headquarters located in St. Louis, Missouri and production facilities in Illinois, Maryland and California. We manufacture long-lasting landscaping and playground products made from 100 percent recycled rubber tires. To date we have recycled more than 400,000,000 pounds of rubber under the Rubberific®, NuPlay®, Re-Play®, NuScape® and Lasting Beauty® brand names.